The Hummer Club, Inc: Paragon Park 7/2004
---

---
01/05 Article at OFFROAD.COM: Four Quick Tips for a Long Ride to Paragon Park
Trip report from 7/04:
Each summer my good friend, Chris "Crispy" Blood, and I pack clothes and gear, spare parts and tools wave goodbye to our respective families, and jump into my 95 Hummer Open Top for a our annual adventure to Paragon Park in Hazleton, PA. In years past we have gone with different off-road clubs and various types of rigs from around the New England area, but this year we decided to try it out at an "all Hummer" event - so we signed up to go with the National Hummer Club, Inc.
Each year we drive the truck 7+ hours to Hazelton, wheel for three full days, and then drive the rig back. This year we had the peace of mind knowing that there would be a vast number of other Hummers and parts, and knowledgable folks from AM General and Hummer dealerships there to help us keep the truck rolling for all three days, and still survive the highway drive home. We have always made it there and back as the only Hummer "crew" in the past, but it was relaxing to know we didn't necessarily have to pack every spare part on Earth to be completely self-sufficient so that we could put things back together and make it home without any other help...
---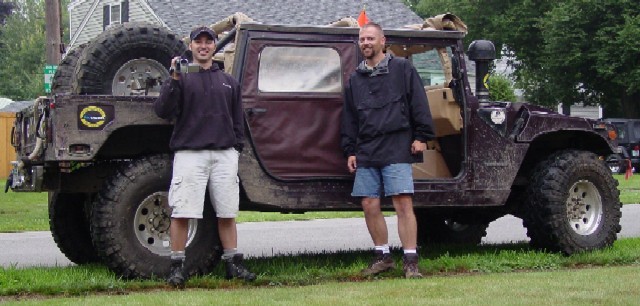 Packed and ready to roll...
---

I had blown up my transfer case on a local ride in Western Massachusetts just a few weeks before the trip was scheduled, so it was no small feat to get the truck back together in time for the event. I got a new t-case installed in time for the trip, but fell behind on a few other things - so I gave Steve Brajak at Long Hummer in Framingham, MA a call. He did us a favor and squeezed us in for some last minute work, and then we hit the pavement towards Hazleton.
---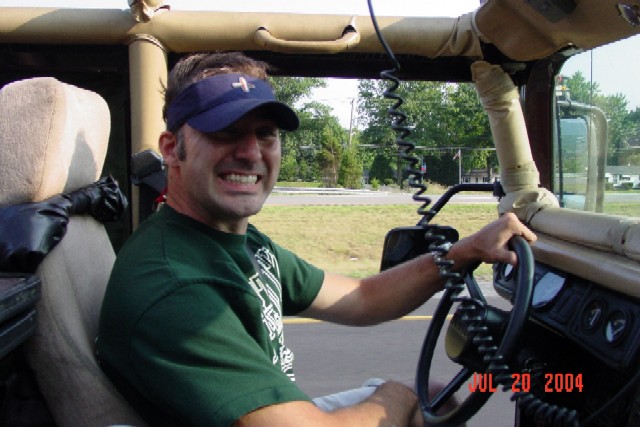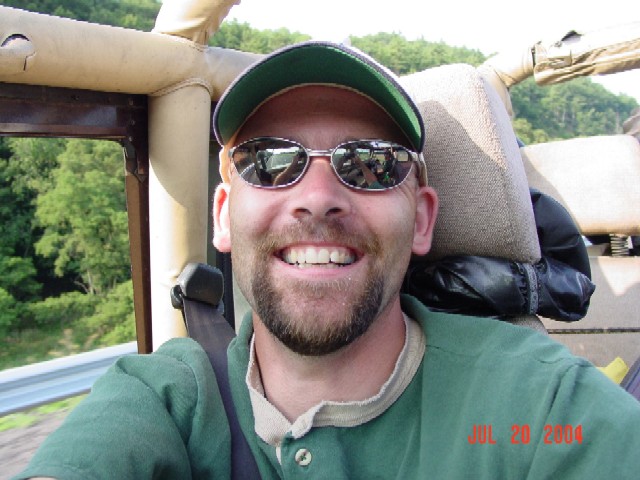 We arrived in PA, after a relatively uneventful trip down - a refreshing change from our years of the past when we had been known to lose a couple of hours doing parking lot field repairs. We arrived at the Eagle Rock Resort, and registered for the event. Once we were in our room, we cracked open a couple of our favorite beverages and enjoyed the accomodations as we watched the other Hummers from around the country rolled into the parking lot as night fell. It was definitely a different feel than the motor inns and campgrounds we usually stayed at on this annual trek, and it was a refreshing and fun change of pace. Oh, and I think Crispy turned into a some kind of demon or something briefly, but he is definitely O.K. now.
---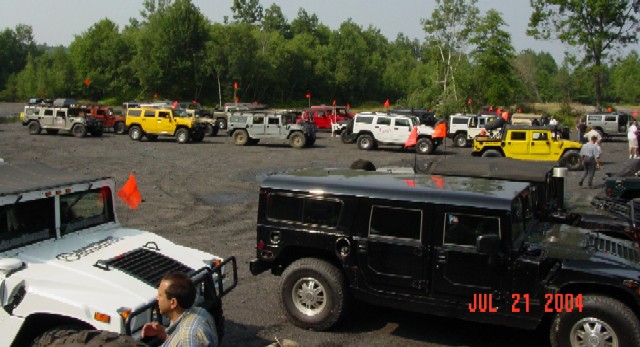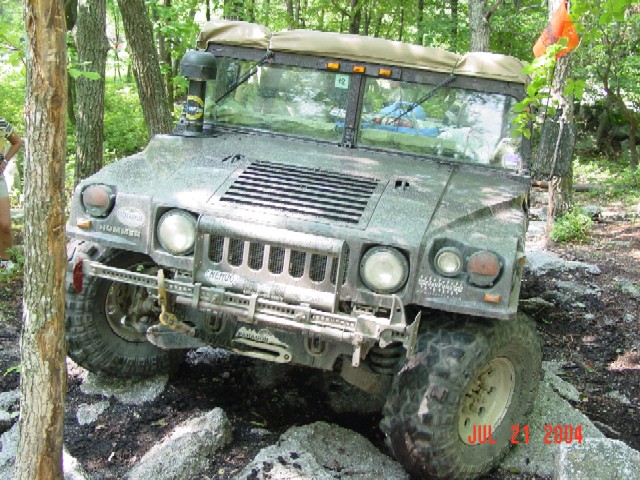 We signed up to go on the advanced trails for all three days. This was supposedly the "crazy boys" group, although we found most of the drivers were a lot tamer than we expected. On day one of the trailrides, our gregarious and very entertaining trail leader Dave Simkins got an earful from one driver, who apparently thought he was trying to make someone roll over... Dave assured him it was a safe trail, and it all smoothed out to be a fun day. By the way, Dave happens to have a truck that almost anyone who wheels would drool over - a 502 equipped Hummer with race suspension, rollcage, and more custom performance parts than you can shake a stick at... N.I.C.E.
---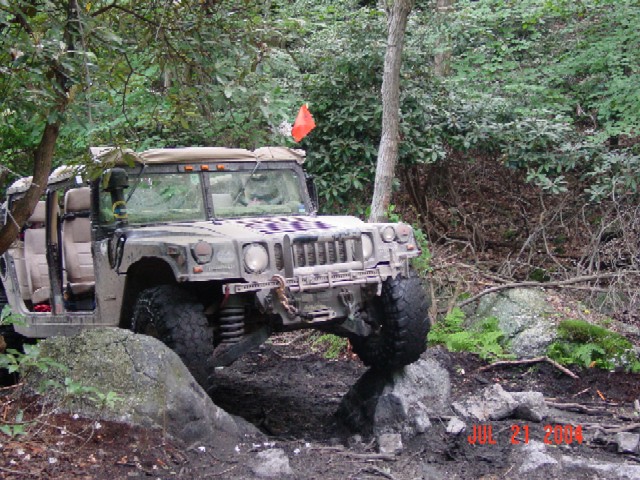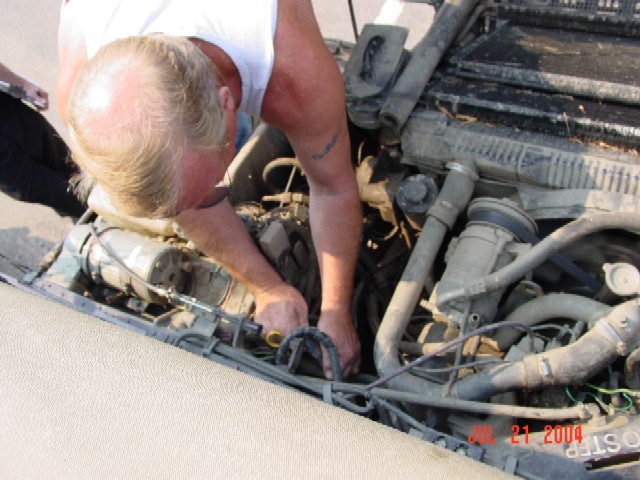 My rig began to have an intermittent stalling problem, and we couldn't nail it down to a specific cause for the first two days... eventually we came to the conclusion that the return line from the injection pump was being "pinched" closed when the truck twisted and flexed in certain situations. John Ward from AM General checked things out in the tech area at the resort, and Jerry Hedger was a big help troubleshooting the problem on the trails. Once we figured out what the issue was, I just tried my best to avoid flexing the truck in that direction. It was tricky, and sometimes I had to carry through an obstacle with more momentum than I would have preferred to make sure I didn't hesitate in the wrong spot and stall out - but we went on to wheel some of the toughest trails in the park.
---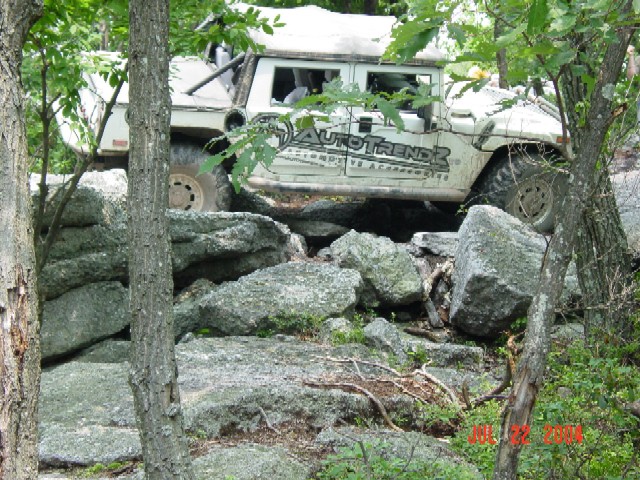 One day two, we attacked Voo-Doo, which is a red rated trail. This was our favorite trail of the three day event. We watched gleefully as the various trucks scraped and banged their way through the big rocks. Crispy and I decided to take a different line up the long steep climb portion of the trail, which kept at least one tire up in the air most of the way. I see-sawed my way up the right-hand line, left-foot braking almost the entire way to keep the truck moving. Fun stuff!
---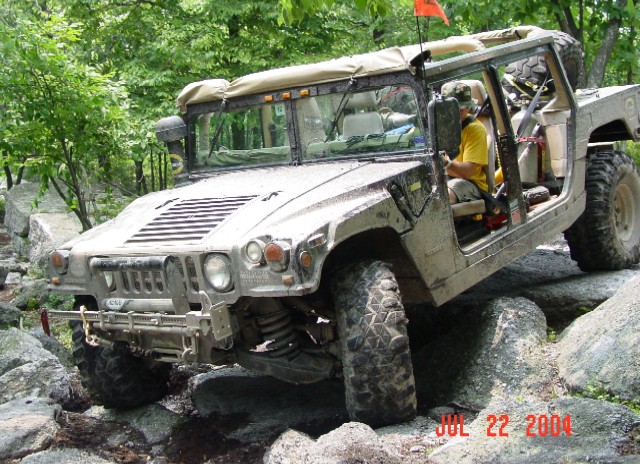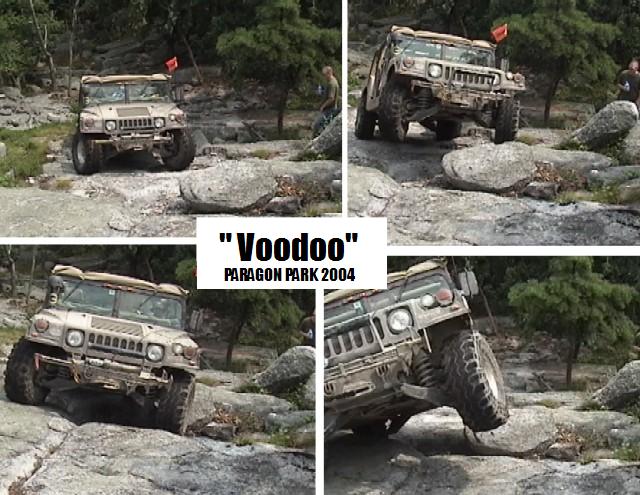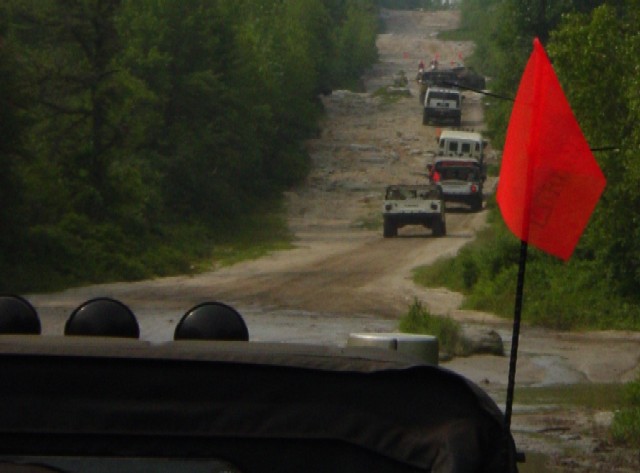 At the end of the second day of trails, Crispy piloted the truck most of the day, to take a brake from his usual spotter/navigator role. He had driven the Hummer at Paragon before, but this was the first year he took on a a black rated trail as driver... he looked drove it like a pro.
---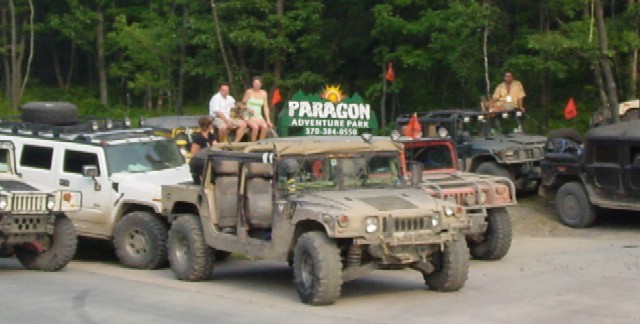 HUMMER of South Portland, Maine's H2 got a halfshaft transplant while I was chatting in the AM General Tech area with John Wade, Tom Knight and Dave Breggin. This was one of the real advantages of going to the official Hummer Club event - the representation from manufacturer, dealerships, and third party vendors was impressive. Raytheon was on hand to demonstrate their Night Vision equipment after nightfall.
---

On day three we hit the trails again, but half of our group had already headed home. One of the main reasons: Rain, rain, and more rain. The mud got real deep, and in some cases the recovery vehicles had to be recovered themselves - but that's why we go out in groups, right?!
---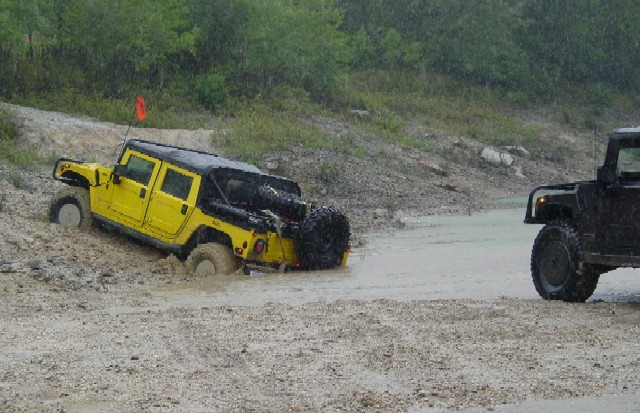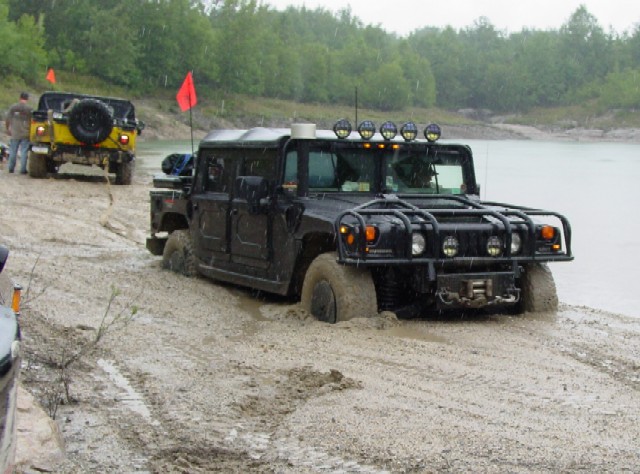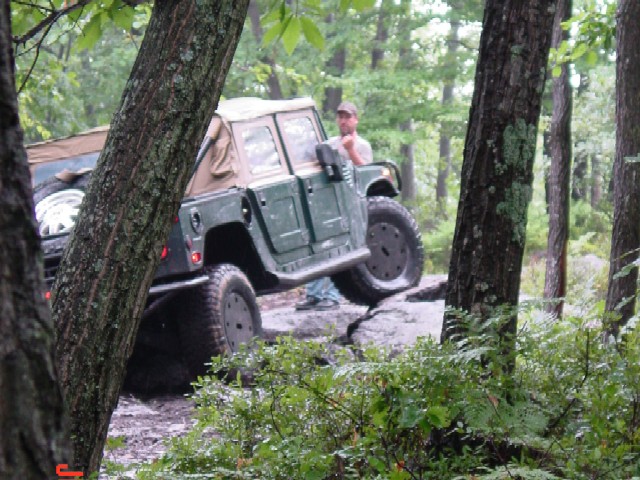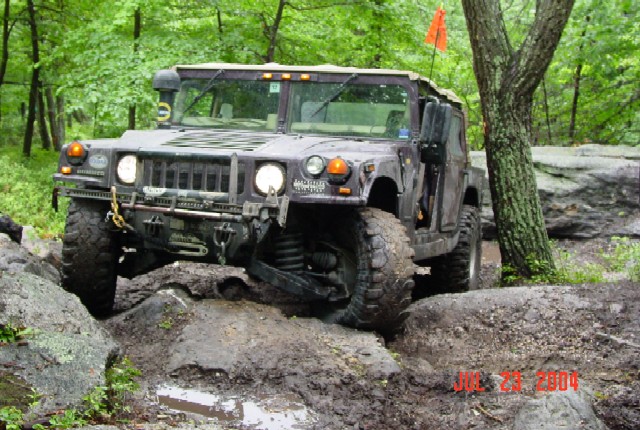 Some suspicious characters from the ...
---

Jerry and I working on log placement to help this truck climb the rock bank and make a turn
---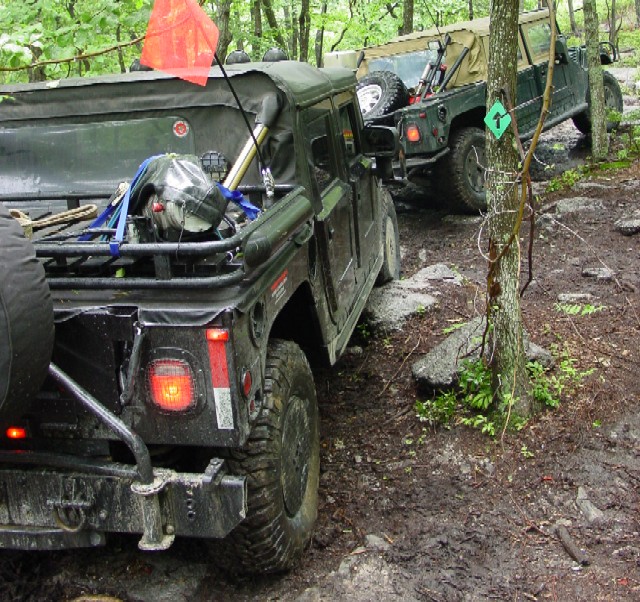 Some prestigious award recipients...
---
Day Four - pack and go.
---

Parting shot at the park before we hit the highway
---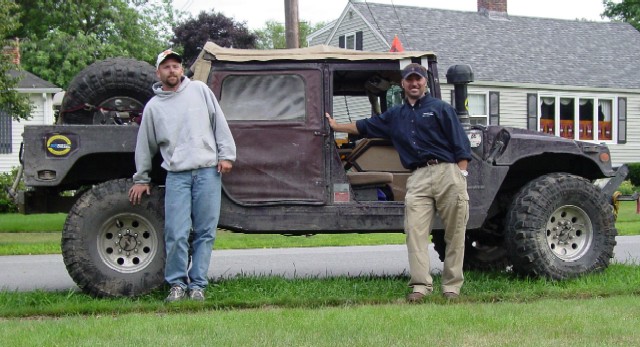 Back on the seacoast... thanks everyone for a great week!
---
Return to Manny's Trailrides Page
---
last updated 7/27/2004